Farmers Market in the Finger Lakes
A list of Finger Lakes Farmers Markets including location and times.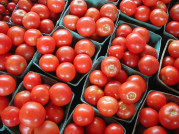 Farmers Market in the Finger Lakes
Ithaca Farmers Market
The Ithaca Farmers' Market is the grandaddy of all the Finger Lakes farmers markets and is easily the best and most fun. The Market is a co-operative consisting of over 125 local fruit and vegetable growers, bakers and cooks, and a wide variety of artists and craftsmen. There are also lots of yummy and fresh things to eat - read a review and see photos of food: Finger Lakes Flat Bread. The market pavilion is situated on the water's edge, in a garden-like setting, and is surrounded by trees and flowering plants. Sat 9-3, Sun 9-2
IthacaMarket.com
Aurora Farmers Market
Wells College Softball Field
corner Rte 90 & Poplar Ridge Rd
Aurora NY 13026
1-315-364-3304
Saturdays 9:00AM to 1:00PM
June - October
AuroraFarmersMarket.com
Corning Farmers Market
Corning's Farmer's Market is located in Riverfront Centennial Park in Corning's Gaffer District from 9am to 3pm. Thursday, June 5 from 9 - 5PM and continues every Thursday through October 30.
GafferDistrict.com
Corning Indoor Winter Farmers Market
Corning's only Indoor Winter Farmers Market offers a wide variety of locally grown produce, naturally raised meats, baked goods, honey, maple syrup, wine, Alpaca products and Holiday wreaths & decorations. The Market is conveniently located inside the Information Center at 1 West Market Street. Saturdays- November 10th & 17th and December 8th and 15th 2012 from 11am to 3pm.
Corning Winter Farmers Market
Auburn Farmers Market
Auburn Farmers Market is an open air market in downtown Auburn. There are 22 vendors with various local fruits, vegetables, herbs, perennials, flowers, Amish baked goods, organic produce, homemade pies, jams, garlic, cut flowers all season long, honey, maple syrup, cider, fresh eggs, crafts, silk flower arrangements, jewelry, painted glass, pottery and seasonal goods. Season: June through October
E. Genesee St. between South St. & Loop Rd., in front of Wegmans, Auburn, NY. Tuesday, Thursday, Saturday, 8 AM - 2 PM
Canandaigua Farmers Market & Bid
The Canandaigua Farmers' Market is a seasonal market which seeks to provide area citizens with a healthy, fresh supply of locally grown produce and value added food products while providing an effective marketing outlet for local agricultural producers. Season: June through October - Saturdays, 8:30 AM to 12:30 PM.
Corner of Mill and Beaman Streets,Canandaigua.
Branchport Farmers Market
The Branchport Farmers Market offers a variety of local vendor produced items including seasonal produce, eggs, meats, preserves, pickles, baked goods, maple products, homemade soaps, local wine and much more. Many of the vendors use organic, natural or sustainable methods. The Summer market is located at the Branchport Fire Hall Pavilion at 3686 Rte 54A and is open weekly on Tuesdays from 4-6:30 pm, from Late May - Late October. The Winter market is open every other Tuesday across the street at the Branchport Public Library from 4-5:30 pm, November - May.
Branchport Farmers Market or email branchportfarmersmarket@gmail.com
Geneva Farmers Market & Bid
Fresh fruits,vegetables, baked goods, jams, jellies and crafts. Season: Mid June through Early October. Thursdays, 7:30 AM to Noon.
Exchange St. Parking Lot (across from Lyons National Bank)
Hammondsport Farmers Market
Season: Mid June through October - Tuesdays & Saturdays, 9 AM - 5 PM
Liberty Street Park, Hammondsport
Moravia Farmers Market
A fun place to shop and buy fresh fruits and vegetables, honey, and eggs. Season: June through October
Kinney Drug Store parking lot, Main St., Moravia. Thursdays, Noon to 6 PM Season: June through October.
Seneca Falls Farmers Market
Locally (New York State) grown fruits and vegetables. Many locally crafted products will also be available. In addition, look for homemade baked goods, jams and jellies and cut flowers. Season: June 17th through October 28th.
People's Park, canalside, near Seneca Falls Community Center. Wednesdays, 9AM to 2PM
Skaneateles Farmers Market
Season: June through Mid October - Thursday, 3:30 PM to 6:30 PM
Community Center Parking Lot, 97 State Street, Skaneateles
Watkins Glen Farmers Market
Season: Late May through October - Fridays, 3 PM - 7 PM
Lafayette Park, Fifth & Porter Streets, Watkins Glen
Yates CO-OP Farm and Craft Market
A wide variety of fresh produce, cut flowers, plants, preserves, eggs, baked goods, quilts and crafts; all grown or made in Yates County or in one of our immediately neighboring counties (Ontario, Schuyler, or Steuben). Come get the freshest produce, collect our free recipes, talk to the farmers and visit with your neighbors. Open-air market.
Season: Late May through Mid October - Saturday, 7:30 AM to 12 Noon
Downtown Penn Yan, on sidewalk, East side of Main St. at Elm St.
Congo Square Market - Ithaca
Come enjoy a place reserved for the free expression of Southside culture - Food, Music, Culture and more. Every Friday throughout the summer.
Season: June 12th to September 4th - Saturday, 4:00 to 8:00 pm
SouthSide Community Center, Ithaca
Congo Square Market
The Windmill Farm & Craft Market
This is more a craft market than a Farmers Market as there are only 15 farmers out of the 250 vendors, so it might not feel as earthy as the other farmer's markets. But if you are by Dundee or Penn Yan (northeast part of Keuka lake) it is worth a looksie.
TheWindMill.com